The 2019-2020 tuition information below is for your planning purposes.

 

The 2020-2021 tuition rates will be published in March 2020, after review and approval by the Incarnation Finance Committee.
Incarnation Parish is dedicated to provide a quality Catholic education to families at a fair and equitable tuition rate. Under the guidance of our pastor, Fr. Pat Sloneker, the Incarnation Finance Committee works very hard to keep the tuition as low as possible for families.  Teachers and administrators are vigilant about all expenses, and annually receive grants that bring additional money and innovative curricular programs to the school community.   The Parish supports the school by providing funding from the weekly collections that keeps the tuition rate as low as possible.
Parishioner Tuition Rates
Special Tuition Rates – Catholic Parishes Without Schools
Non-Parishioner Tuition Rates
Non-Immigrant Foreign (F-1) Student Rates
Tuition Payment Options
Timely tuition payments and support of the school community are expectations for continued enrollment at Incarnation School.   Tuition and fees are paid through the FACTS Tuition Management program.  All families must have an active FACTS tuition payment account by July 1 of each year, or within two weeks of acceptance if registering after July 1, to be considered registered for Incarnation School.  Families have the option to pay in full by June 30 or participate in the ten-month payment program.
Financial Aid
A limited financial assistance fund is provided through the generosity of Incarnation Parish.  Families who have been registered active parishioners of Incarnation Parish for at least one year are eligible to apply for financial assistance.  All applications for assistance must be completed online through the FACTS payment program.  Our Pastor, Fr. Pat, will make final determination of tuition aid.
Early Withdrawal/Late Admission
Families withdrawing from school before December 31st will be reimbursed a quarterly prorated amount.  Reimbursements will not be remitted after December 31st of the current school year.  Final assessment may be billed based on the date of student withdrawal.  All assessments are due before school records will be forwarded.  Tuition for students admitted during the school year will be charged on a quarterly basis.Fees, including Extended Day Program fees, are not prorated and are not refundable.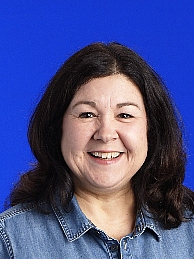 Mrs. Kim Shields
Registrar
(937) 433-1051, ext. 134.
Have Questions about tuition?