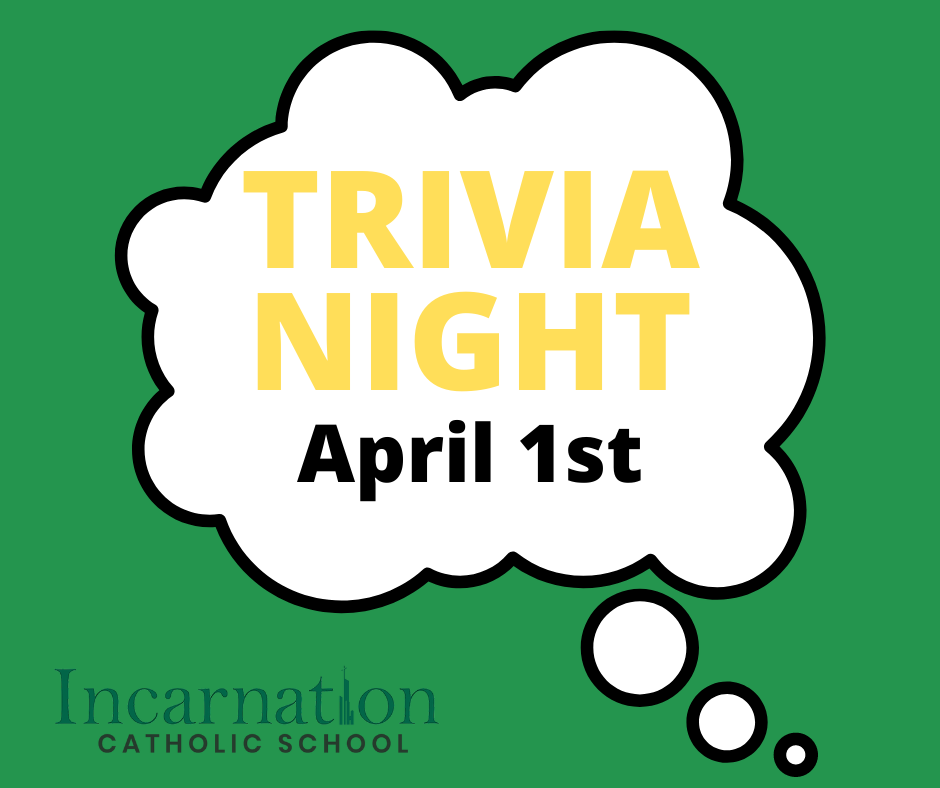 2022 Incarnation Trivia Night


It's No April Fools

!
Doors open at 6:30pm.  Game 7:30pm to 11pm.

 
Event Details
Each table of 8 is $160. 
Tables are paid as a whole, we cannot split table payment between the
8 table members – we leave those determinations to the tablemates!   
RSVP and table payment is online, see link to sign up! 
Adults age 21+ only, no exceptions.
We will have 10 rounds of questions, with judging after each round.
No technology is allowed during question rounds, including answering or texting phones!  
Bring food & non-alcoholic drinks for your table, if you wish.
Please – there is no alcohol BYOB on our premises.
Beer and hard Seltzers will be on sale before the game and between rounds.
Please note that we are not able to sell wine for this year only due to
constraints with our temporary Ohio Liquor permit being
within 30 days of our annual Incarnation Fry.  
We encourage your table to "dress a theme"….after all, it is April Fools Night!
Some notable theme tables of the past include the Snuggies, Elves on the Shelf Gone Wild,
Night at the Oscars,  The Surgery Table, Los Triviadores Super Heroes,
School Snow Day One-Call, and many more.
Prizes are awarded to the Trivia Winner table and Best Theme table, although
we all know Trivia Night is about the honor and glory.  
For any questions, please contact Theresa or Ed Busher at ebusher@woh.rr.com
937-266-4414 (Theresa) or 937-266-4412 (Ed).
Thank you for your support of Incarnation Trivia Night –
100% of our fundraiser proceeds benefit Incarnation School!
Split the Pot
Our renowned Trivia Night Split-the-Pot winners average $1200+ take home!
We are doing the tickets online this year – you can buy them all the way until the drawing
before our final question round 10.
We will also offer cash sales for 50/50 tickets at Trivia if you prefer to bring purchase tickets there.
Please forward the 50/50 link to your tablemates, family and friends.
Note: using this new format, winner does not have to be present,
so please share the link https://winhalf.com/trivianight  with those who cannot be with us on 4/1,
but want a little part of Trivia Night fun!
Ticket Sales
$160 per table of 8 people
*ADULTS ONLY (21 and Over)
INFANTS AND CHILDREN WILL NOT BE ADMITTED AT ANY TIME
Check out our past Trivia Nights!